Three Generations - Interview with Janice Hurlburt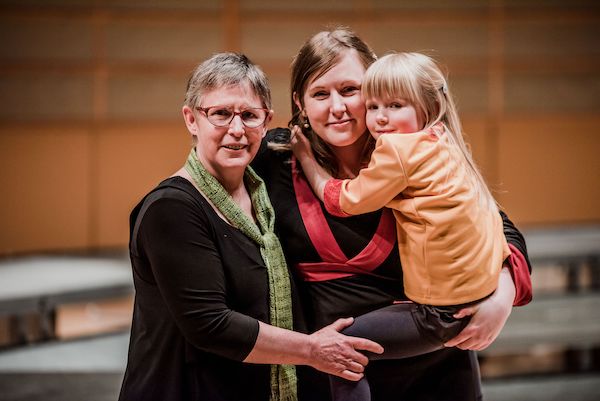 Three Generations, Photo Credit:  Kelly Skinner, Friday Design and Photography


How did you first come to our organization?
I came to the organization when my daughter Shannon joined Kokopelli. And she then moved on to Òran. We started attending these concerts where we were just blown away with the music. I mean as soon as they started singing I would almost start to cry, every concert. The beauty of the music—and the variety, and the movement—was always very inspiring.

Then, when Vacilando was created, Shannon said, "Mom, you gotta join, you gotta join!" She kept nudging me (laughs). So I signed up.

How would you describe your initial experience? Had you been in a choir before?
I had studied years ago in the music program at MacEwan, back when it was a community college. I got a diploma in voice, and sang in the jazz choir there. And I'm a lifelong Anglican, so I grew up singing the alto part in hymns.

What's different and special about singing in a group, as opposed to solo?
I had a bit of a quirky start when I joined Vacilando. I had acquired a dizziness condition. Just being in a room with that many people was overwhelming. It was a real challenge. But the choir helped heal me. Choir brought me back to myself. Just singing the same thing together, rather than having a room full of people who are all having different conversations. To create something together—holding each other up and moving each other forward.

At the same time, singing is just so joyful. You can go to choir feeling really lousy and down in the dumps, and by the time you finish singing together you've just got a pep in your step.

You started in Vacilando, but moved to ChandraTala when it was started. What drew you to the new choir, and what makes ChandraTala special?
Yeah, I was in the first six seasons of Vacilando, and I just cherish that choir so much. In my last season, we sang Laura Hawley's composition "Sonnet 43," which I just loved. When I heard she was coming to direct a choir, I just thought, oh yeah, it would be so incredible to sing with her, and it has been. And I also thought that singing in an upper voices choir for experienced singers was an interesting challenge, and part of that challenge is that as an Alto 2 I am singing as the lowest voice in the choir rather than singing in the middle.

I know it's really special to you to have three generations in the choir—you, Shannon, and now her kids Rosie and Noah. What has that been like?
So far, I've been able to sing onstage with Shannon and Rosie—each of us in our own choir outfits. It's been such a thrill, knowing that we're performing together. If there's any kind of mixed choir or mass choir piece, Shannon and I will make a point of standing together. It just feels so wonderful to be sharing that.

I can't imagine there are many choir associations out there where that sort of thing would be possible.
Exactly! In the older choirs, so many of us are "parents of." It's so wonderful to sing with our kids. I'm thrilled the organization created choirs where we could do that.

We're the first actual three-generation family, but there are many other families with more than one generation singing in the choirs.

So, you've got that feather in your cap forever. To finish off, what would you say to somebody who, like you, is in the seats listening to the choirs, and who thinks they might want to join in?
When you go to a performance, you're looking at something that's been rehearsed—a lot. You may think, "Oh, well, I could never do that," but when you go to rehearsals it's always very supportive. You've got all the other people in your section who are there to help you build that experience. By the time we get to the performance that'll be you doing that!