A Few Minutes with Vacilando Singer Cressida Heyes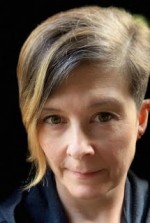 U of A philosophy professor Cressida Heyes is currently in her fourth season singing with Vacilando (and also serves on our association's board). Like many of our adult choristers, she values choir as a weekly oasis in an otherwise hectic life. (This interview has been edited for length and clarity.)
Give me a little snapshot of your of your professional life. What sort of things do you have to juggle in a typical day?
One of the weird things about an academic job is that there is no such thing as a typical day.
I'm a professor at the University of Alberta. My PhD is in philosophy and I teach philosophy and political theory. The job has three components: 40 percent research, 40 percent teaching, 20 percent service. But the way that that's distributed through the year, and over the years, is enormously variable.
So, at the moment I'm in a slightly blissful state, where I'm only teaching one graduate seminar and it's all very lovely. I'm writing like crazy and trying to finish my manuscript for a book I'm working on.
But there have been other times in my career where I've had administrative appointments—which can mean horrible 70-hour weeks and things like that. Or, times where I've been teaching hundreds of undergraduates at a time—creating the content for them, evaluating their work, and managing their issues.
So it's a completely different job depending on which day, which month, which year you ask, really.
If you put yourself in one of those 70-hour weeks, how earth do you find time to stop what you're doing, hop in your car, and go to choir rehearsal?
At a certain point, what are you going to do? Are you going to organize your entire life around the fact that sometimes you have a 70- or 80-hour week? Are you just not going to do anything else because it might be too much? You can't live that like that.
So, I'm trying to get better at including things in my life that I really want to do. And just trying to let a few things slide sometimes. With the job I have, at least for someone with my kind of pathological personality, it's hard to just to let something slide—especially now, because of all the cuts at the university
But dropping something doesn't always have to be negative, you know? A mentor of mine once told me, "You overprepare for teaching. You spend too much time. If you spent 75 percent of the time, it would make zero percent difference to the students." And I thought, oh yeah, that's right, isn't it?
How did you first come to Vacilando? How did you discover it?
Well, I sang in choirs throughout my youth, when I was an undergrad, and when I was in graduate school. But then, the early years of an academic career are really awful and demanding. And I was moving a lot; I moved between countries a couple of times.
I had meant to join a choir when I came to Edmonton, because I figured that I would be here for a while. I kept meaning to, but never did.
And then my ex-husband and I ended our relationship after being married for 20 years It was difficult, but also really regenerative in a certain way—for both of us.
Just at that the time that was happening, I went to a small dinner party for a friend's 40th birthday, and another friend of mine, Natalie Loveless, was there. We sang happy birthday to this friend, and Natalie turned to me and said, "You can sing! You have a singing voice! Why aren't you in a choir?" And I said, "Well I just never really got around to it." And she said, "I'm in this choir, Vacilando. You should audition." And the rest is history.
What does choir bring to you that you don't get elsewhere in your life as a parent and professor?
The opportunity, not just to listen to music, but to be part of making music and getting into the guts of music. It's so different than listening from the outside.
And I really, really value being in community with people who are not academics. Academics tend to hang out with each other all the time. It's very unhealthy. So, it's really good to be in a group of people who all do different things.
Do you have a favorite Vacilando memory so far?
A very fortunate thing happened, in hindsight. My parents, who are in their 70s, came to visit me from the UK in May 2019. I'm not sure the trip would have happened if they'd left it another season, with the pandemic and with both of them getting older.
That spring we had the After Dark concert at Cité Francophone. The tickets were completely sold out, but I was, like, oh my God, my parents have come from the UK! So, we got them in. They were able to see what I was doing in choir, and to see me doing something that is part of my life in Edmonton. We had a glass of wine in the foyer, and it was just really nice to connect those things. That was a high point for me.
Vacilando next performs Saturday, April 9 at After Dark.  Get tickets here.