Scott Leithead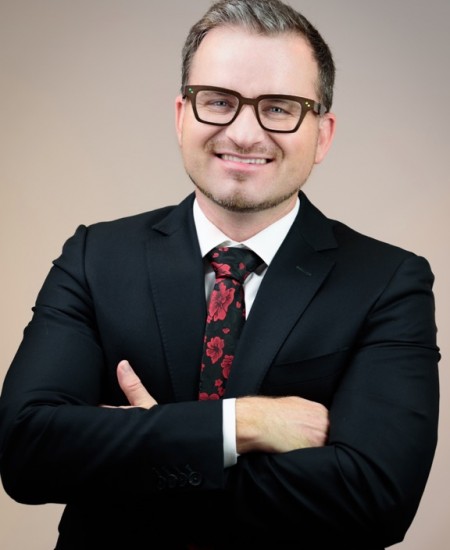 ---
Artistic Director
Conductor, Korora
Conductor Emeritus, Òran
Scott Leithead is the founder and Artistic Director of Edmonton's Korora Choir Association and TIME Association. He has been invited to conduct provincial and state honour choirs on twenty-six occasions and he has presented workshops in North America and beyond. Notable appearances include: adjudicating the Tampere International Festival in Finland; conducting the 2013, 2015-2019, 2023 Ellison Canadian Honour Choir. He has adjudicated both the ACCC National Competition for Amateur Canadian Choirs and the Kathaumixw International Choir Festival (2014, 2016, 2023). Under his direction, Korora was the winner of both the 2015 CBC National Competition for Canadian Amateur Choirs and both the 2015 and 2016 Canadian National Music Competition.  In the summer of 2019, Korora was invited to perform at the IFCM World Choral Expo in Portugal, where they represented Canada on the world stage.  Also in 2019, Korora was featured on an episode of CTV's "The Amazing Race Canada".

Scott has a passion for music from southern Africa, and he has been invited to work with choirs in South Africa and Namibia on numerous occasions. In 2008–2009, Scott was on sabbatical in Namibia, where he worked with the Mascato Youth Choir and many other choirs in southern Africa. Scott's passion for innovative and unique choral music experiences has shaped the direction of the Korora Choir Association. In February 2023 he conducted the ISSEA Mass Choir in Johannesburg South Africa featuring international schools from across the African continent.

In 2024, he will conduct the 40th Anniversary Manitoba Sings Adult Choir, the Ellison Canadian Honour Choir (Toronto), the Eastman Honour Choir and the Nova Scotia Youth Choir.  He will also adjudicate the 2024 Ontario Vocal Festival.
Scott is a longtime member of the advisory committee for the Canadian Rocky Mountain Music Festival and the Edmonton and Whistler Cantando Festivals.

Scott was awarded Choir Alberta's top honour, the Richard S. Eaton Award, in 2015. He also received Edmonton's Salute to Excellence award in 2016. He has also been awarded the Syncrude Award for Innovative Direction.